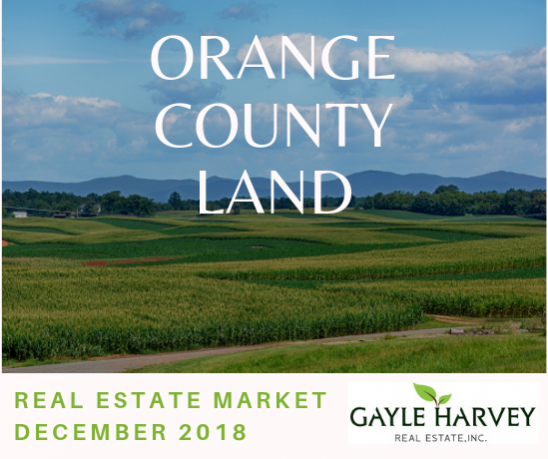 Review the latest real estate market information for land in Orange County Land in Central Virginia.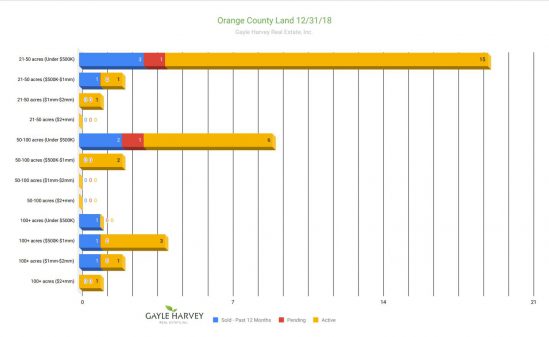 (This real estate market report includes information through 12/31/2018 for Orange County, Virginia.)
Sellers of land in Orange County, Virginia could be looking at a long time with their properties on the market. Much like last quarter, there have only been a total of nine sales in the past twelve months with two pending sales at year end. With thirty active listings, it's definitely still a buyer's market for land in Orange County.
Properties between 21 and 50 acres with a price under $500,000 have the most available listings, followed by parcels between 51 and 100 acres in the same price range. Larger sized parcels (over 100 acres) have the most active listings in the $500K to $1 million price range.
If you have questions about this real estate market information for land in Orange County or real estate in any other areas of Central Virginia, I would appreciate the chance to talk with you – Please reach out to me, Gayle Harvey, at Gayle@GayleHarveyRealEstate.com or 434-220-0256.
Check back in each week as we break down the market information for active, pending and sold land listings by individual counties.
If you would like to see the market information for other areas of Central Virginia, you can see that here:
Central VA Land – Real Estate Market Update – Dec. 2018
Albemarle County Land – Real Estate Market Update – Dec. 2018
Madison County Land – Real Estate Market Update – Dec. 2018