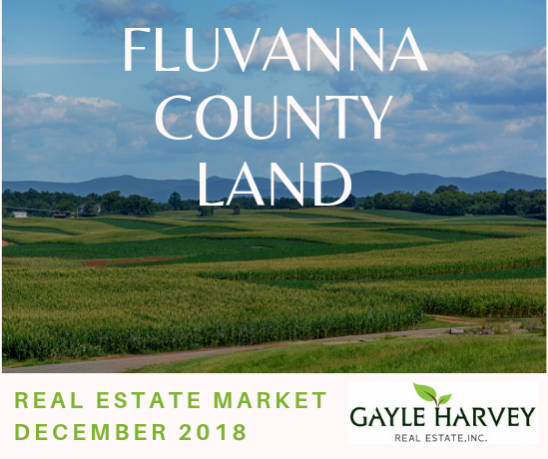 Review the latest real estate market information for Fluvanna County Land in Central Virginia.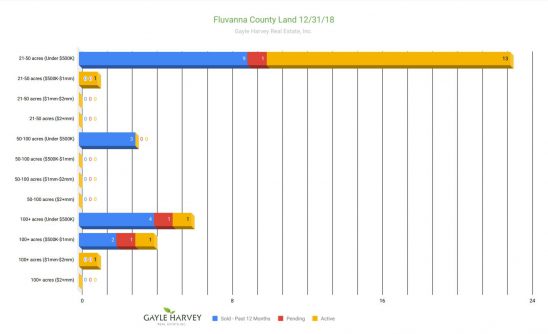 (This real estate market report includes information through 12/31/2018 for Fluvanna County in Central Virginia.)
Small land parcels, between 21 and 50 acres, make up a large part of the land market in Fluvanna County. Fourteen out of the seventeen active listings are for small acreage, with three available listings for large parcels over 100 acres. All of the active land listings for small parcels are priced under $500K, except one.
There were three pending sales at year-end, and a total of eighteen sales in the past year.  Four of those sales and one pending sale are for large parcels priced under $500K, which could indicate buyers are taking advantage of the lower price per acre for land in Fluvanna County.
With a low inventory of active land listings over 100 acres, this could be a good time for sellers to list their land for sale. If you have questions about this real estate market information for property in Fluvanna County or other areas of Central Virginia, I would love the chance to talk with you and answer any questions you may have.  Contact me, Gayle Harvey, at Gayle@GayleHarveyRealEstate.com or 434-220-0256.
Check back in each week as we break down the market information for active, pending and sold land listings by individual counties.
If you would like to see the market information for other areas of Central Virginia, you can see that here:
Central VA Land – Real Estate Market Update – Dec. 2018
Albemarle County Land – Real Estate Market Update – Dec. 2018
Madison County Land – Real Estate Market Update – Dec. 2018
Orange County Land – Real Estate Market Update – Dec. 2018
Buckingham County Land – Real Estate Market Update – Dec. 2018