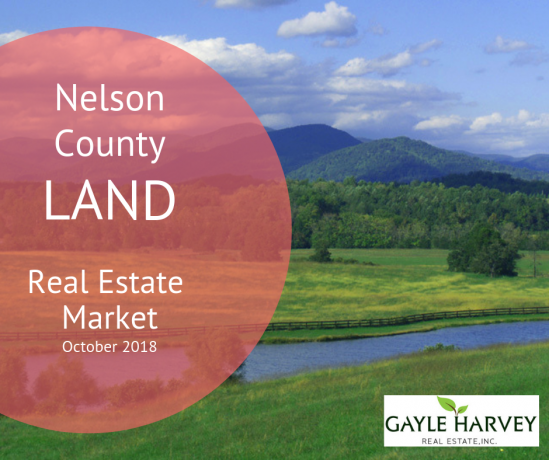 Review the latest real estate market information for land in Nelson County, Virginia.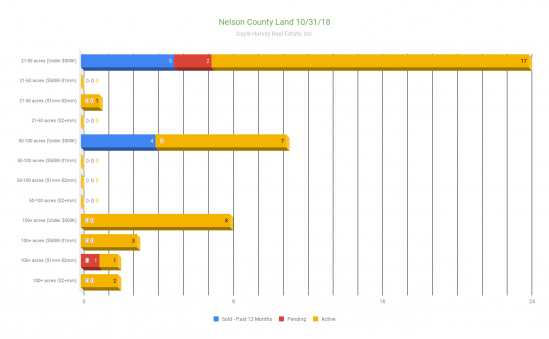 (This real estate market report includes information through 10/31/2018 for Nelson County in Central Virginia.)
Good news for land buyers…..not so good news for sellers in Nelson County. There is a large inventory of active property listings at all price points right now. With only a total of nine sales in the past year, and three pending sales, sellers can expect to have a high number of days on the market with their land listings.
The most abundant property activity in Nelson County takes place for smaller parcels, between 21 and 50 acres. With eighteen active listings, two pending sales, and five sales in the past year, this is where a large part of the real estate land market is focused. The majority of these listings are all priced under $500K.
There are a few mid-size listings and sales for parcels between 50 and 100 acres. All of these listings have also been priced under $500K.
There are a bounty of active listings at all price points for large parcels over 100 acres. With only one sale in the past year for property of this size, unless market conditions change, it's sure to be a long wait for sellers with listings in this category.
With the current market situation, it can be important for both buyers and sellers of land to have access to a knowledgeable guide to point you in the right direction throughout the process. I would be happy to discuss this market report and help create a winning strategy for your next land transaction in Nelson County and other areas of Central Virginia, including Charlottesville.
Contact me, Gayle Harvey, at Gayle@GayleHarveyRealEstate.com or 434-220-0256.
Check back in each week as we break down the market information for active, pending and sold land listings by individual counties.
If you would like to see the market information for other areas of Central Virginia, you can see that here:
Central VA Land – Real Estate Market Update – Oct. 2018
Albemarle County Land – Real Estate Market Update – Oct. 2018
Madison County Land – Real Estate Market Update – Oct. 2018
Orange County Land – Real Estate Market Update – Oct. 2018
Buckingham County Land – Real Estate Market Update – Oct. 2018
Fluvanna County Land – Real Estate Market Update – Oct. 2018
Greene County Land – Real Estate Market Update – Oct. 2018