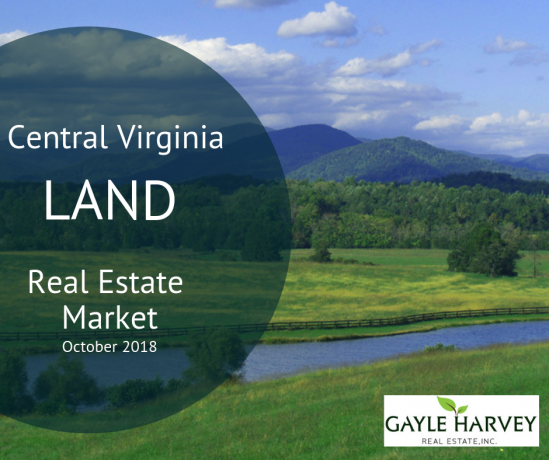 Review the latest real estate market information for land in Central Virginia.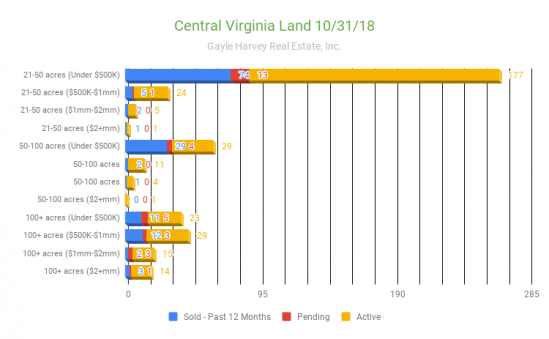 (This real estate market report includes information through 10/31/2018 for the Central Virginia counties of: Albemarle, Buckingham, Fluvanna, Greene, Louisa, Madison, Nelson, and Orange.)
Small land parcels, between 21 and 50 acres, are by far seeing the most action for listings and sales with the most active price point being under $500K. An important note to make is that there are currently 177 active listings, with only 74 sold listings in the past 12 months. Similar trends are also seen in the mid-size and large land listings here in Central Virginia.
As a seller, you could be facing a significant amount of time with an active land listing before you have a sale. As a buyer, there are many available listings to select from right now. Given the current market, you could have some negotiating power behind you. Whether you're buying or selling, it's important to have an experienced and knowledgeable real estate professional guiding you in the process.
If you have any questions about this market report and how it might impact your decisions when buying and selling land in Central Virginia, please reach out to me. I would love to answer your questions and help you make the most informed decisions possible for your real estate transaction. Contact me, Gayle Harvey, at Gayle@GayleHarveyRealEstate.com or 434-220-0256.
Check back in each week as we break down the market information for active, pending and sold land listings by individual county.